JetNation Week 17 Report Card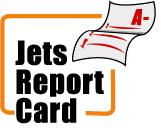 by Joe Grinwis
Quarterback B+
Pennington – 22-30, 157 yards, TD
Chad didn't make any mistakes on the day and threw his 17th touchdown pass of the season. A lot more dinking and dunking than usual but that in large part is because of Oakland's #1 ranked pass defense. Oh Pennington led this team to the playoffs once again when he got double digit starts in a season.
Running Back B–
Washington – 15 carries, 53 yards, TD; 2 receptions, 17 yards
Houston – 16 carries, 44 yards
Leon had a very good day receiving and running and it was the Cedric Houston show late in the 4th quarter to finish off the Raiders. It sure looks more and more each week that Leon Washington is going to be a special and different kind of back that Jets fans are not used to seeing in a Jets uniform.
Wide Receiver C
Cotchery – 7 receptions, 53 yards
McCareins – 5 receptions, 27 yards
Coles – 2 receptions, 24 yards
An average day for the Jets' 1-3 targets. Laveraunes Coles was covered well all day by Raider CB Nnamdi Asomugha and Jerricho Cotchery fell 39 yards short of 1,000 for the season.
Tight End B
Baker – 2 receptions, 19 yards, TD
It seems that whenever the Jets throw the ball Bakers way he is catching it and either making a 1st down or a touchdown grab. Was the same way Sunday.
Offensive Line B
Pennington was brought down once on the first drive of the game and after that not at all. The running game did well but in large part to trick plays. The OLine did make holes for Leon Washington. Pass protection was key and the OLine stepped up in that department as well.
Defensive Line B-
Justin Fargas (17 carries, 79 yards) had a pretty decent day against the Jets' front 3 DLine but Dewayne Robertson and Shaun Ellis again had good days as Ellis recorded 7 tackles and put constant pressure on Raiders QB Aaron Brooks.
Linebackers A
This grade some may say was a little too high but with the way Eric Barton, Victor Hobson, Bryan Thomas and Jonathan Vilma played yesterday I'm giving it to them. Justin Fargas didn't get past the front 7 and Eric Barton had a huge day with 5 tackles, a sack and a forced fumble.
Secondary A
Oakland's leading receiver had 47 yards. 47 yards!? I don't care if Aaron Brooks is back at QB, not letting anyone eclipse 50 yards is impressive. Kerry Rhodes had 4 tackles and a sack and David Barrett filled in very well for injured LCB Andre Dyson.
Special Teams B+
Mike Nuuuuuge Nugent was again perfect going 3-3 on his field goal attemps. Nugent finished the regular season going 24-27 on his FG attempts, 23-24 since Week 1 and made 18 in a row to finish off the season. Ben Graham, when he punted, punted well and although Justin Miller didn't bring anything back yet again had a few good returns. The only thing keeping this grade to being an A was Mike's kickoffs. For some reason yesterday they weren't so good and their was barely any wind so who knows.
Coaching A
A little conservative but it worked and now Eric Mangini and his coaching staff have completed the improbable run of bringing this 2006 New York Jets team into the playoffs. Kudos to Eric & Co. Now go out and beat the Pats!
Videos
Aaron Rodgers Injury Fallout & Jets/Bills Recap