Week 3 Preseason Report Card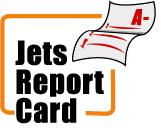 JETS – 20, Giants – 12
by Joe Grinwis
Quaterbacks – B
Pennington – 5-11, 89 yards, TD
Clemens – 6-8, 122 yards, INT
Pennington's lone good play was the opening one, a nice pass to Leon Washington in which Leon did most of the work, running away from Giant defenders. Kellen Clemens came into the game in the 3rd quarter and led the team to two touchdowns and was a good play by J.R. Reed away from having a great night.
Running Backs – C+
Washington – 7 carries, 6 yards
Ware – 15 carries, 57 yards, TD
Leon did make one nice play in the passing game but in the running game he did absolutely nothing. That may be more on the Jets' Offensive Line but still you would like to see more from the shifty back. Danny Ware however looked great once again and hasn't had a bad game yet this preseason.
Wide Receivers – C-
Aside from back to back grabs by McCareins and Smith on a Kellen Clemens touchdown drive, the receivers were barely noticeable. Jerricho Cotchery dropped a pass and Laveranues Coles' lone reception went for 2 yards.
Tight Ends – C
Decent blocking, Pociask and Kowalewski got into the passing game but really, there isn't too much to report on. Chris Baker was unnoticeable in the receiving game, again, because he had to stay in and help block more than anything.
Offensive Line – D
I don't know where to begin here. D'Brickashaw Ferguson was beat by Osi Umenyiora and Justin Tuck for sacks, although Jacob Bender was to blame somewhat for the sack by Tuck. The line couldn't protect Pennington as well as you would like, couldn't open up running lanes for Washington and the only good thing they did tonight was help out Danny Ware, the 2nd string OLine that is.
Defensive Line – D
Did the DLine go out for dinner tonight? Nobody on the starting line made any significant plays that helped the Jets. Brandon Jacobs ran all over this defense almost every time he touched the football and there was no pressure, for the most part, on Eli Manning.
Linebackers – B
Jonathan Vilma struggled, but once again the rest of the starters and reserves played well. Making most of the tackles were the middle of the defense and there were strong games played by rookie David Harris and newcomer David Bowens. Cody Spencer looks like he is going to make this team as well.
Secondary – B-
Darrelle Revis is impressive. Anybody who was not impressed by the way this young man played on Saturday night just doesn't know what they are watching when they tune into NFL games. David Barrett again giving up his famous 10-15 yard cushions and the starting secondary wasn't as effective without Andre Dyson. The reserves, however, played really well. But really, this is a B- because of Mr.Revis.
Special Teams – A-
Mike Nugent's blocked extra point attempt is what brings this grade down from an A to an A-. The Nuge had two touchbacks (quiet down haters) and Benny Graham once again punted a very good game. Brad Smith returned kicks and looked good and you can see the flashiness of Revis on punt returns already.
Coaching – B
Okay, you can be vanilla in the Preseason against a team you will play in the regular season but there has to be a limit. The first half play calling, minus the first play was pretty much bad, but the second half brought a few new plays. Well, maybe that's because in the 2nd half the guys under center had arms to pull those plays off.
Videos
NY Jets Phase 3 OTAs, Expectations and a Minor Calf Tweak with Greg Renoff