Week 4 Preseason Report Card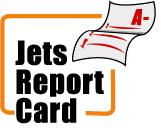 JETS – 13, Eagles – 11
By Joe Grinwis
Well folks, the Preseason is finally over. But, before we start talking about the Jets / Pats match-up on the 9th, lets have one last Preseason Report Card.

Quarterback – B
Tuiasosopo – 9-16, 78 yards, 1 TD rushing
B.Smith – 2-8, 29 yards
Clemens – 2-2, 12 yards
Kellen Clemens didn't play much at all and Brad Smith was ineffective throwing the ball once again. Marques Tuiasosopo made a strong case for the Jets to carry 3 Quarterbacks when he led the team on their only touchdown drive as well as the drive that set up Mike Nugent's game winning field goal.
Running Back – B
Ware – 12 carries, 33 yards
Tutt – 12 carries, 48 yards
Danny Ware and Stacey Tutt both ran the ball effectively and the Jets could be in a situation where they could place Ware on the Practice Squard and use Tutt as the 3rd running back to go along with his back-up fullback and Special Teams duties.
Wide Receiver – B-
Stuckey – 4 receptions, 47 yards
Jackson – 3 receptions, 51 yards
It may be too late for Frisman Jackson to make this Jets team but he had his best showing of the Preseason. Chansi Stuckey made a nice few grabs on the game winning drive, showing good moves and under-rated quickness once the ball is in his hands.
Tight End – C
Kowalewski – 3 receptions, 12 yards
Pociask – 1 reception, 3 yards
Decent blocking, minus a bad block that led to a Tuiasosopo fumble by Pociask. Joe Kowalewski might not make this team, but, he has great toughness as no matter how hard the hit, this guy just does not drop passes.
Offensive Line – C
They didn't protect Tui all too well and Danny Ware a few times was left with nowhere to go. Adrian Jones also let up a horrible sack as well. However, Jacob Bender and Adrien Clarke both played well with both rotating in and out of Right and Left Guard.
Defensive Line – B
The best pressure of the Preseason came by the way of C.J. Mosley who recorded 3 sacks in the 1st quarter alone. Mosley made his case to make the Jets team and his strong performance could launch him over Sione Pouha if the Jets plan to carry only two nose tackles. The unit stopped the run the best it had all preseason in the fourth game, which is somewhat of a good sign.
Linebackers – B+
David Harris was all over the field once again. David Bowens seemed to be in on almost every play. Brad Kassell to me is not a lock to make this team as he will make a nice play one play and will be out of place on the next. Andre Wadsworth pressured Kevin Kolb a few times but he appears to be a soon to be cut.
Secondary – C-
Darrelle Revis played well in the few series he played but the troublesome note is Drew Coleman. The second year player seems like he is making too many mental mistakes and there could be a hard decision for Mangini and Co. to make as to who will be the number five Cornerback on this team.
Special Teams – A
Benny Graham had a 61 yard punt. Mike Nugent's kickoffs had good distance and he was 2-2 in field goal attemps, including the game winner as time expired. Chansi Stuckey is an electrifying return man and Cody Spencer will make this team not only for his linebacker skills but also his special teams play. Same goes for WR Wallace Wright.
Coaching – A
Oh heck, I don't know, why not. They kept the offense with vanilla play calls not showing the Eagles or anybody watching too much. The coaching staff seems to have these players ready for the season. Lets see what happens.
J-E-T-S JETS JETS JETS!!!!!!!!!!
Videos
Aaron Rodgers Injury Fallout & Jets/Bills Recap