Week 1 Report Card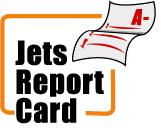 Patriots – A Lot, Jets – A Little
by Joe Grinwis
Well, what can you say that hasn't already been said in the few hours since this game concluded? A horrible, embarassing opening day loss to our rival from the north for sure.
Quarterbacks – B
Pennington – 16-21, 167 yards, 2 TD
Clemens – 5-10, 35 yards
Chad Pennington did his usual: dink & dunk offense, throwing the ball 5-10 yards down the field. Anyone's completion percentage would shoot up the charts with the way this man passes, but either way 16-21 isn't too shabby and the 2 touchdown passes to Coles didn't hurt.
Running Backs – C
Jones – 14 carries, 42 yards; 1 reception, 6 yards
Washington – 4 carries, 15 yards; 3 receptions, 30 yards
Aside from one play by each Jones and Washington, the Jets' backfield duo were kept in check by New England's front seven. Granted, Jones wasn't at 100%, but I don't think it would've mattered. The Offensive Line is to blame for this as well however, and for Week 1 we'll give the tandem a C.
Wide Receivers – B
Coles – 7 receptions, 59 yards, 2 TD
Cotchery – 6 receptions, 57 yards
LC turned out to be Pennington's favorite target (shocking, I know), and made two very nice touchdown grabs in the corner of the endzone. Jerricho Cotchery had a quiet 6 receptions but that also was in large part to a short style attacking offense.
Tight End – C
Baker – 2 receptions, 29 yards
Chris Baker blocked well in pass protection and had a few receptions. However, I would like to see him get more receptions. If Baker did not have to stay in and block he would be the #3 target continually on this team.
Offensive Line – C
This unit gets a C because they were HORRIBLE in run blocking and fairly good at pass protection. Jacob Bender surprisingly was inactive and Adrien Clarke played well, minus  run blocking. The Jets could've used Bender on first down with their seemingly always 1st and 10 handoffs up the middle to Thomas Jones.
Defensive Line – D
Three dead corpses could've done a better job today. There was ZERO pressure all afternoon on Tom Brady as the 3 time Super Bowl champion Quarterback did not once even HIT THE GROUND. Pathetic. Laurence Maroney (20 carries, 72 yards) and Sammy Morris (11 carries, 54 yards) also had a field day on this defense. Kenyon Coleman had 10 solo tackles, so I'll bump up this unit from an F to a D.
Linebackers – D
Jonathan Vilma let up a touchdown to Ben Watson and please Vilma fans, quiet up and listen: That was 110% Vilma on that play. Bryan Thomas and Victor Hobson coming off the edge were invisible in trying to pressure Brady, the few times they tried. Eric Barton didn't show up either.
Secondary – C
Okay, this unit probably looked the worst, but, lets remember a few things:
A. There was NO pressure on Brady.
B. Â No Andre Dyson
C.  David Barrett started
Why is David Barrett starting? I just do not understand it. Its not like Justin Miller did much better, but watching David Barrett out there try to play corner is like watching an infielder in baseball try to pitch the 9th inning. Darrelle Revis is a tackling machine however, and Jets fans should be happy with his performance today.
Special Teams – C
Okay, so Nugent starts booming kickoffs to make his naysayers happy and what happens? Ellis Hobbs sets the record (108 yard return for touchdown) for the longest kickoff return for a touchdown in NFL HISTORY. Benny Graham seemed to have an off day and where was Justin Miller in the second half? Oh yeah, I remember now, riding the pine after he almost cost the Jets a possession. Not like we'd do anything with it anyway.
Coaching – C
WHY WHY WHY is every freakin' run Thomas Jones up the middle? ENOUGH! It wasn't working! When you have 2 straight pass plays that work, WHY IN GODS NAME DO YOU GO BACK TO THE RUN!? Also, I know Chad's arm is less than average but can we at least try to throw the ball down the field?
Videos
Aaron Rodgers Injury Fallout & Jets/Bills Recap