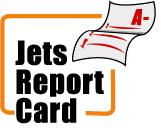 Jets – 13, Ravens – 20
by Joe Grinwis
Quarterback – B+
Clemens – 19-37, 260 yards, TD, 2 INT
Clemens' lone mistake, an INT in the first quarter, was caused because of a slip and fall by Laveranues Coles.
The other INT? A ball Justin McDrops should've caught but instead had go right through his hands. Kellen
led this team in the 2nd half so close to tying this game, but McDrops sealed his fate with two dropped balls that would've been touchdowns. What a first career NFL start, in Baltimore, for young Mr.Clemens.Running Back – C
Jones – 24 carries, 67 yards
A fumble by Jones almost proved costly to the Jets but Nick Mangold recovered. Either way, Jones ran aggressively and made a few nice runs. However, he must improve in his run blocking because there were a few times where he did not help out Clemens in passing situations. Leon Washington appears to be the better pass blocking back.
Wide Receiver – B+
Cotchery – 7 receptions, 165 yards
Coles – 6 receptions, 57 yards
Jerricho Cotchery had a huge day helping Kellen Clemens in the 2nd half and Laveranues Coles made a few nice, big play receptions as well. Justin McDrops had two huge drops inside the final two minutes and sealed the Jets' fate. The man should not see the football field next week at home against Miami.
Tight End – C
Baker – 1 reception, 3 yards
Only one grab from Baker, all be it a touchdown reception, but for the rest of the game his play was up and down. For the majority of the game Baker was kept in to block and he did not have one of his strongest days in pass protection.
Offensive Line – D-
Clemens was sacked four times and was pressured throughout the game. The line and backs had no idea where the Ravens were coming from and D'Brickashaw Ferguson again had a shaky game. The run blocking wasn't any better as Thomas Jones was held to just 67 yards on 24 carries.
Defensive Line – D+
The DLine played better than last week in helping to tie up more blockers for the linebackers to blitz in. However, it still wasn't enough for the Jets to generate a sack, keeping their season number at 0. However, the line did help keep Willis McGahee under 100 yards, so that's a good note.
Linebackers – B-
No sacks from this unit but much more pressure than last week and Jonathan Vilma actually made a couple of stops.  Bryan Thomas was all over the field today and with that at least one former 1st round pick is succeeding in this defense.
Secondary – B-
Average day. Darrelle Revis and Kerry Rhodes played very well and David Barrett once again looked like a Division 1-AA Cornerback on an NFL field. You can't fault the secondary for the lack of pressure on Kyle Boller like the Jets had, so this unit gets a better grade than they should.
Special Teams – A-
Mike Nugent was 2-3 on Field Goal Attempts with his one miss being from 52 yards out with plenty of distance. Again, great kickoffs from Nugent as well as an onside kick that should've been recovered by Brad Smith. Also, The Nuge helped stop a kickoff return for a score by Yamon Figurs. Ben Graham punted well minus one 33-yard punt and no touchdowns were let up on Special Teams this week.
Coaching – B+
Too much running in my opinion, but the play calling down the stretch in the 4th quarter was excellent. The Jets were pretty much forced to throw the ball in the 4th quarter after being down 20-3 with 10:05 to play, but Kellen Clemens stood up and almost brought the Jets all the way back. The coaching staff has to be comfortable if Chad Pennington is not able to play next week or at any point in the future.
Goat of the game: Justin McDrops (McCareins)
Star of the game: Jerricho Cotchery