Week 4 Report Card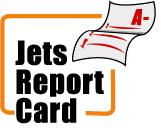 JETS – 14, Buffalo – 17
by Joe Grinwis
Quarterback – C
Pennington – 32-39, 290 yards, TD, 2 INT
The numbers are solid up until you see the two interceptions. Unfortunately, those are the two interceptions that cost the Jets the game. Both came with less than 10 minutes to play, the first led to the second Bills touchdown on the afternoon and the last one with six seconds remaining sealing the game. 14 points are not enough to win an NFL game.
Running Backs – D
Jones – 12 carries, 35 yards
Washington – 4 carries, 24 yards, TD; 8 receptions, 38 yards
Thomas Jones for the most part did absolutely nothing behind an Offensive Line that could not run block. Leon Washington however had a nice touchdown run and was a big part of the offense's second touchdown drive late in the 4th quarter.
Wide Receivers – A
Cotchery – 8 receptions, 106 yards
Coles – 6 receptions, 65 yards, TD
Neither Jerricho Cotchery or Laveranues Coles dropped a pass and both held onto balls thrown by Pennington that got them killed by Bills defenders. Cotchery making two great grabs on the Jets' first touchdown drive and Coles capped it off with a solid TD grab.
Tight Ends – B
Baker – 3 receptions, 24 yards
Chris Baker had a few nice grabs, three to be exact, catching the most amount of balls he's caught in a game this season. However, his blocking wasn't as great as usual, but still wasn't too bad.
Offensive Line – C-
D'Brickashaw Ferguson had two holding calls against him and they couldn't block the Bills defensive line if their lives depended on it. However, Pennington was only sacked once which allowed Chad to have his best game (yardage wise) of the season.
Defensive Line – C+
The best pressure of the season was seen today, but it still was not enough. A sack by Shaun Ellis was the lone defensive line highlight when the Bills decided to air it out. However, holding Marshawn Lynch to just 79 yards is a very strong positive note.
Linebackers – B
Calling Bryan Thomas. Where has this man been? Jonathan Vilma, for the most part, continues to get pushed around and once again, can David Harris please begin to start? Victor Hobson had a sack and recovered a fumble early and overall had the best day of anyone in the group. This unit also helped stop Lynch in the running game big time.
Secondary – D
Darrelle Revis was the main target for rookie Trent Edwards today and besides from a forced fumble and key stop on 3rd down late, had his worst game so far this season. However, with Andre Dyson not starting, that doesn't help the youngster. David Barrett was again was beaten badly. How in the world do you let a first time starter go 22-28 for 234 yards?
Special Teams – C
Mike Nugent missed a 37 yard field goal to end the first half and did not have a touchback. Ben Graham punted well minus one punt that was so-so that was, of course, right before the Bills' first touchdown drive. No big returns today from Leon Washington, but no big returns from the Bills' Terence McGee or Roscoe Parrish either.
Coaching – C
The coaching staff finally started to bring the blitz a little more. I do not fault them for Chad dumping balls off to Leon Washington late in the game, Chad needs to try to make something happen down the field. Too much running early in the game as well. Throw the ball down the field! The Bills were starting a less than 100% Terence McGee and Jabari Greer!
Stud of the game: Buffalo QB Trent Edwards
Dud of the game: 4th Quarter Chad Pennington
Also, I'd like to give a shout out to my man Ken, a manager at Modell's in Newton.
Videos
Aaron Rodgers Injury Fallout & Jets/Bills Recap