Week 5 Report Card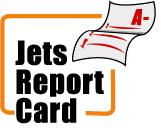 Jets-24, Giants-35
by Joe Grinwis
Quarterback – F
Pennington – 21-36, 229 yards, TD, 3 INT
Chad threw three interceptions, two in the second half. The last one? A pick six for Giants rookie cornerback Aaron Ross with the Jets down 28-24 and driving with 3:15 remaining.
Running Backs – F
Jones – 13 carries, 36 yards
Washington – 9 carries, 13 yards
Oh where oh where has the running game gone, oh where oh where can it be? This was pathetic. 55 total rushing yards?  Some can blame the offensive line all they want but there are plenty of times where both Jones and Washington are making stupid mistakes when the ball is in their hands on offense.
Wide Receivers – B
Coles – 8 receptions, 89 yards
B.Smith – 3 receptions, 44 yards, TD
Cotchery – 4 receptions, 31 yards
Laveranues Coles led the way, as usual, after returning from an early injury with eight grabs for 89 yards. Jerricho Cotchery had his least productive day of the year so far but Brad Smith stepped up and made a few very nice grabs, including his first ever touchdown in the NFL.  Congrats Brad.
Tight Ends – B
Baker – 3 receptions, 52 yards
Chris Baker had his most yards in a game so far this season but no big play touchdown, unfortunately. Pretty good blocking in pass protection again for Chris but he is also part of an Offensive Line that cannot pave the way for the running game.
Offensive Line – C
Once again, Pennington was sacked just ONE TIME against a defensive line last week that had 12 sacks. Count 'em, 12. As far as pass protection goes, this unit did one hell of a job. However, no run blocking is really hurting this team, or maybe its not the line, maybe its completely the backs. I don't think it is.
Defensive Line – F
Brandon Jacobs (20 carries, 100 yards, TD) and Derrick Ward (13 carries, 56 yards, TD) ran up and down on this defense all day long and the line certainly did not help. When Eli Manning went back to pass he was barely pressured and it shows with this disgusting stat line: Defense: 0 sacks.
Linebackers – C-
Aside from Kerry Rhodes' day, the linebackers were making all of the tackles for the defense. Victor Hobson, although not stat wise (6 tackles) played well as did rookie David Harris and Jonathan Vilma had an interception that set up a Mike Nugent field goal that gave the Jets a 17-7 lead at the half.
Secondary – B
Andre Dyson, please find a way next time, if you ever go up against him again, to tackle Plaxico Burress or at least push him out of bounds.  That was just sad. Other than that, the secondary only allowed Eli Manning to throw for 186 yards when the front 7 could get barely any pressure on him. Kerry Rhodes led the Jets with 9 tackles, a forced fumble and a touchdown that gave the Jets an early 7-0 lead.
Special Teams – B+
Mike Nugent was 1-2 on field goals but this week three points was not the difference. Nugent also had a touchback, his fourth of the season. Benny Graham punted well and the unit did not allow a long return. Leon Washington sparked the Jets faithful with a 3rd quarter kickoff return for a touchdown to give the Jets a 24-14 lead. It was all down hill from there.
Coaching – C
The Giants offensive line was not that good and there is no reason that Mangini and or Sutton couldn't find a way to put Eli Manning on his rear end at least a couple of times today. Decent Offensive play calling from Brian Schottenheimer, but with Chad Pennington at the helm the offense is not playing as well as it could be.
Stud of the Game: Kerry Rhodes
Dud of the Game: Chad Pennington
Videos
Aaron Rodgers Injury Fallout & Jets/Bills Recap