Week 7 Report Card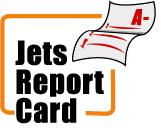 Jets-31 Bengals-38
by Joe Grinwis
Quaterback – B-
Pennington – 20-31, 272 yards, 3 TD, INT
Pennington's stats are misleading. He had 170 yards of his 272 in the 1st half and his third and final touchdown came with the Jets trailing 38-23 and on the final play of the game. Once again Pennington could not get it done late and threw yet another pick six. It appears Pennington's time as the starting quarterback of the New York Jets is over.
Running Backs – C-
Jones – 19 carries, 67 yards
Washington – 3 carries, 11 yards; 2 receptions, 21 yards
Thomas Jones had a couple of nice runs but ran for a quiet 67 yards against a Bengals run defense that was ranked near the bottom in the league. Leon Washington continues to not get a lot of touches on offense.
Wide Receivers – A-
Coles – 8 receptions, 133 yards, 2 TD
Cotchery – 6 receptions, 60 yards, TD
Other than a late Hail Mary pass by Pennington, can you remember a Jets receiver dropping a pass? I can't. Laveranues Coles had a great day but Jerricho Cotchery was quiet until late in the game. Every single team will try to stop one of these two, but not a lot of teams can stop both of them.
Tight Ends – B
Ryan – 3 receptions, 46 yards
Sean Ryan filled in for Chris Baker (back) who didn't even make the trip and made a couple of nice grabs.  He did a pretty good job of blocking as well. Joe Kowalewski dropped an easy pass in the first half.
Offensive Line – C-
The pass protection was solid until late in the 4th quarter when the Bengals defense was able to break through and pressure Pennington. Running the ball was not successful today and it should've been.
Defensive Line – F
The Jets defense let back-up running back Kenny Watson run for 130 yards on them and the line played a huge role in the defensive struggles. Dewayne Robertson had a horrible game at Nose Tackle.
Linebackers – D
Bryan Thomas had his first full sack of the year in the first quarter and Eric Barton made a couple of nice stops.  Aside from that the Jets front seven just could not put any pressure on Carson Palmer.
Secondary – C
There was little or no pressure throughout the game but this time the secondary made some really stupid mistakes. Rookie corner Darrelle Revis had two pass interferences calls.  Surprise starter Abram Elam led the team in tackles with nine but had a big missed tackle and personal foul call in the second half. David Barrett continues to show that he can not stay within 10 yards of a receiver.
Special Teams – B
Mike Nugent was 3-for-3 with one touchback and the unit did not allow the Bengals a good return all afternoon. However, Ben Graham shanked one punt and Leon Washington had a little trouble hanging onto the ball back there today.
Coaching – D
Not enough blitz calls for my liking as the defense should've been able to get to Carson Palmer for more than one sack on the Bengals' opening drive. The Jets had a balanced attack on offense but please, ENOUGH WITH THE FADE ROUTES!
Videos
NY Jets OTA Recap; Robert Saleh Cancels Minicamp