Week 8 Report Card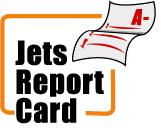 Jets lose again, 13-3
by Joe Grinwis
Quarterback – F
Pennington – 13-20, 106 yards
Chad Pennington led the offense to 3 points in the 2nd quarter and that was it. Hey, at least he didn't throw an interception or a pick six in the 4th quarter. Always have to look at the bright side, right?
Running Backs – C+
Jones – 16 carries, 70 yards; 5 receptions, 34 yards
Washington – 5 carries, 25 yards, Fumble
When given the ball, Thomas Jones and Leon Washington got it done for the most part but with Pennington crippling the offense once again, this offense couldn't put up any points.
Wide Receivers – C
Cotchery – 5 receptions, 47 yards
B.Smith – 3 receptions, 43 yards
Laveranues Coles was taken out of the game by the Buffalo secondary but did make one grab. Unfortunately, it almost got him killed. Coles laid on the ground for a few minutes then got up and walked off on his own power.
Tight Ends – C+
Nothing amazing as usual from the receiving game but Chris Baker & Co. did a good job run blocking yesterday. However, in terms of pass blocking, the line was not solid, and the TE's didn't help.
Offensive Line – C-
The line let up three sacks to a defensive line that aside from Aaron Schobel, who had one sack, just isn't that good. The line did pave the way for Jones & Washington.
Defensive Line – D-
Once again the line was nowhere to be found.  Marshawn Lynch and Dwayne Wright were able to lead a Buffalo rushing attack that wore down the entire defense for Buffalo's 10 point 4th quarter. Shaun Ellis did have 7 tackles though, and very quiet ones at that.
Linebackers – C+
David Harris (17 tackles, sack) had a great day out there, giving the best performance of any Inside Linebacker thus far this season in the 3-4 defense. It looks as if Jonathan Vilma's days as a New York Jet are numbered. Victor Hobson and Eric Barton made some nice plays as well.
Secondary – B-
Darrelle Revis had his first ever interception.  Late in the game Abram Elam collided with Revis who was about to make his second career interception, but instead Lee Evans was able to make the catch and dart 85 yards for the touchdown that sealed the game. They did put pressure on the Quarterback yesterday, but still no numbers to show it, except for Revis' pick.
Special Teams – B
Buffalo's Special Teams are if not the best one of the best special teams units in the league and the Jets were able to hold the Bills to little or nothing on their returns. Mike Nugent hit his lone field goal attempt, and yes his kickoffs weren't that great, but Bills punter Brian Moorman, one of the strongest legs in the league, had a bad day as well in terms of distance.
Coaching – C
Much more blitzing, which helped, and there was more pressure than usual, but still no sacks to show for it. The defense was not the problem today. The problem was, once again, Chad Pennington. The play calling wasn't too great, again, either, but Mangini has to get over his Chad Pennington love affair and bench him.
Stud of the Game: Lee Evans
Dud of the Game: Chad Pennington
Videos
Aaron Rodgers Injury Fallout & Jets/Bills Recap