Week 9 Report Card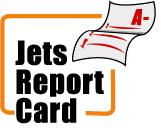 Redskins-23, Jets-20
by Joe Grinwis
Quarterback – B-
Clemens – 23-42, 226 yards, TD
Kellen Clemens, for today, looked like the real deal. The young gunslinger would've had more completions and more yards if the receivers and backs could catch the ball. No interceptions or mistakes in the 4th quarter from the young kid and he was able to make plays with his feet as well (7 carries, 48 yards).
Running Backs – D
Jones – 13 carries, 49 yards
Washington – 4 carries, 13 yards; 4 receptions, 18 yards
When given the ball, Thomas Jones made a couple of nice runs, but otherwise was shut down by the Redskins defense. Leon Washington had a critical drop on a deep Kellen Clemens pass in the second half, and if caught the Jets very well could've won the game.
Wide Receivers – D
Cotchery – 5 receptions, 90 yards
McCariens – 3 receptions, 32 yards
Jerricho Cotchery had a couple of nice receptions, but on two of them Clemens was the one who was far more impressive by being patient and getting away from pressure. Horrible drops today by Cotchery and Brad Smith (4 receptions, 27 yards), which played a big role in the loss.
Tight Ends – B-
Baker – 4 receptions, 42 yards
Kowalewski – 1 reception, 1 yard, TD
Chris Baker was more involved in the offense today and his blocking wasn't too shabby either. Joe Kowelewski had only his second catch of the season and his first NFL touchdown.
Offensive Line – D
Three sacks allowed, the pass blocking was inconsistent at best, and when your Quarterback is one yard shy away from being the leading rusher, and he's not named Michael Vick, you know you have a problem.
Defensive Line – D
Clinton Portis (36 carries, 196 yards, TD) ran all over the Jets' defense the defensive line did not help at all. The pressure was just not consistent at all from the front seven, but it was non existent from the front three / four.
Linebackers – B
David Harris (24 tackles – 20 solo) is a beast. Jonathan Vilma Who? If the Jets stay in the 34 defense next season, Vilma will be gone and not too many Jets fans will be upset about it. Eric Barton had a sack and interception as well.
Secondary – B+
Jason Campbell (12-23, 142 yards, INT) struggled, in large part to the coverage by the defensive backs. Welcome back Andre Dyson, finally healthy and out of Eric Mangini's doghouse. Dyson had a couple of nice plays today and Darrelle Revis handled Santana Moss (4 receptions, 49 yards) pretty well.
Special Teams – B-
Leon Washington opened up the game with a kickoff return for a touchdown, and the Redskins kicked away from him the rest of the game. Mike Nugent (2-for-3 on FG's) missed on a 56 yard field goal attempt to end the first half, and his kickoffs, apart from one, fell short. Ben Graham had one nice punt, but before that shanked one. Antwaan Randle El didn't have any good returns, but the Jets failed to recover a 2nd quarter Redskins onside kick.
Coaching – B-
Maybe it isn't the coaching, maybe it's Pennington, but the Offensive play calling was better today. I like how the 43 was brought into the defensive scheme a little more this week, but that could've just been to give the Redskins a different look. Please blitz more Mangini and or Sutton. PLEASE!?
Stud of the Game: Kellen Clemens
Dud of the Game: Jets run Defense
Videos
New York Jets OTA Presser Takeaways, Aaron Rodgers' Impact and Summer Delusion