Thanksgiving Day Game Report Card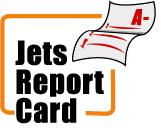 Jets-3, Cowboys-34
by Joe Grinwis
Quarterback – C-
Kellen Clemens – 12-27, 142 yards, INT
It was not Clemens' fault at all on this day as the Offensive Line was putrid. Each time he stepped back from center there was a Dallas defender in his face within two seconds. What do you expect a kid making his fourth NFL start with no protection to do? Throw for 300 yards? Hardly.
Running Back – C-
Thomas Jones – 17 carries, 40 yards
Leon Washington – 2 carries, 14 yards
Again, due to the line's horrible play, there was no room for running either. Usually this line does one thing well and one thing bad each week but after a week of doing everything right they come back do everything wrong. Jones had barely anywhere to go all day and still hasn't crossed the goal line in a green and white uniform.
Wide Receivers – D
Jerricho Cotchery – 2 receptions, 43 yards
Justin McCareins – 2 receptions, 29 yards
When Clemens actually had some time to throw the ball, as rare as that was, the receivers just were not getting open. It is clear to me that Jerricho Cotchery is a very good number two receiver, but a number one? No way. Yes Laveranues Coles was out with an ankle sprain, but if you're going to be a number one receiver, no matter whose playing at the other receiver spot, you find a way to be more productive and it was not just this Dallas game that you can see Cotchery's number two receiver talent.
Tight End – B+
Chris Baker – 3 receptions, 36 yards
Baker extended his streak to 16 straight games where he has caught at least one pass for a first down. He wasn't kept in to block as much as usual due to Coles' injury and if the Jets can fix their line problems in the off-season they need to keep giving Baker chances to make plays.
Offensive Line – F
Is there anything I can give them lower than F? Like a Z maybe? Their play was PATHETIC as noted in the Quarterback and Running Back grades.
Defensive Line – D
Some here will cry for an F but there will be nothing lower than a D for any defensive unit due to the offensive problems. When you're on the field for over 37 minutes in regulation time, you're going to get beat eventually and in the 4th quarter is when the game blew wide open. Dewayne Robertson had his second straight week with a sack and CJ Mosley had one as well. Kenyon Coleman was tied for the team lead with seven tackles.
Linebackers – C+
David Harris is simply a beast. This kid is everywhere and is a great open field tackler as well. Say what you want about the Mangini Era's free agent pick-ups, but they just draft extremely well. Eric Barton had a nice sack early on in the game and the linebackers did a good job until late being the last line of defense in stopping Marion Barber and Julius Jones.
Secondary – B
Up until late in the game, Darrelle Revis held Terrell Owens in check (6 receptions, 65 yards, TD). The one score that Revis let up was a great play by Owens, not a coverage mistake by Revis. This kid is the real deal (same goes for David Harris). Two receptions by Owens on the first drive of the game and after that he was silent until the game was all but over. Kerry Rhodes helped save a touchdown early with a 1st quarter interception after a Washington fumble on the Jets' first kickoff return of the day.
Special Teams – B
Speaking of Mr.Washington, a rare mistake for the young, fast, speedy, electric runner. He fumbled on the Jets first offensive play of the game.  If it wasn't for Rhodes the Jets would've been down 14-0 very early. Mike Nugent hit his one field goal attempt of 40 yards but his kickoffs were nothing great. Ben Graham punted well for the situations he was put in due to the offense.
Coaching – D
Even with Coles out, the offensive play calling was nothing spectacular in this game and it appears now more than ever that Brian Schotenheimer needs to start changing some things up. Nothing is going to improve however until someone teaches this makeshift Offensive Line to play consistently.
Videos
NY Jets Phase 3 OTAs, Expectations and a Minor Calf Tweak with Greg Renoff