Week 14 Report Card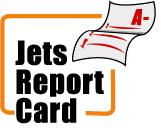 Browns-24 Jets-18
by Joe Grinwis

Quarterback – D
Kellen Clemens – 24-41, 286 yards, 2 INT's
Although you wouldn't think so right away by looking at the stat sheet, but Clemens had his worst start so far as a Jet. Too many passes were low at the feet of receivers, close to being intercepted or overthrown. He piled up some stats late, but other than that looked like just a random guy out there throwing the ball around.
Running Backs – B-
Thomas Jones – 24 carries, 106 yards
Even though he didn't get in the end zone, Jones ran well and consistent throughout the game. However, he must improve his red zone running.
Wide Receivers – B
Jerricho Cotchery – 6 receptions, 119 yards
Laveranues Coles – 7 receptions, 48 yards
Cotchery had a solid outing and although playing at less than 50 percent and getting knocked out of the game twice during the game, Coles made a couple of nice grabs.
Tight Ends – B
Chris Baker – 3 receptions, 48 yards
Baker's role in Brian Schottenheimer's offense continues to expand and it is only for the better. If the Jets could just find a Tight End as good as he is when it comes to pass protection, Baker's name would be mentioned with the best of the AFC.
Offensive Line – C
Another game, another three sacks allowed. Clemens didn't help by at times hanging onto the ball a little too much either.  This line is going to need a major revamping job in the offseason.  At least two positions need to be upgraded.
Defensive Line – D
Jamal Lewis (21 carries, 118 yards, TD) didn't get it going until late, so credit the Defensive Line for a pretty good game when it came to run support. However, the defense had zero sacks and there is no excuse for that.
Linebackers – C-
David Harris led the way once again with 9 tackles but when it came to any other linebacker it seemed like they were invisible. It's not a good thing when one of your starting safeties (Abram Elam) has the most solo tackles (six).
Secondary – B
Darrelle Revis allowed only three receptions to Braylon Edwards and the secondary limited the Browns' high octane passing attack, led by Derek Anderson, to just 185 passing yards and two touchdowns through the air. Kerry Rhodes, for the fourth straight game, had an interception (his fifth of the season).
Special Teams – B
Joshua Cribbs wasn't able to get anywhere, but the same can be said for Leon Washington. Mike Nugent was 4-for-4 on his field goal attempts and now has hit 14 straight and 21 of his past 22 attempts. Ben Graham after struggling in sunny Miami faired better in the cold rain.
Coaching – F
Still do not have any clue as to why the Jets tried an onside kick with just less than two minutes remaining in the fourth quarter when they had all three timeouts. Some of the play calls were just horrible and there is something wrong with your defensive game plan when you can't even pressure the Quarterback.
Videos
New York Jets OTA Presser Takeaways, Aaron Rodgers' Impact and Summer Delusion