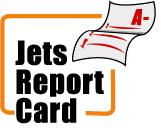 Jets-10 Patriots-20
by Joe Grinwis

Quarterback – C+
Chad Pennington – 25-38, 186 yards
Kellen Clemens – 0-1, 1 int (Patriots touchdown)
It was an average day in the return of #10 to the lineup. No touchdowns, no interceptions. Pennington played well considering the weather and not having more than a couple of first team snaps throughout the week. Still, when push came to shove, this offense only put up a field goal. However, this was more proof that the Jets need to have a veteran behind Kellen Clemens next season, if they plan to give him the job for good, because injuries are frequent in the NFL.
Running Back – F
Thomas Jones – 9 carries, 19 yards
Leon Washington – 4 carries, 57 yards
Minus Leon Washington's 49 yard run on the option play with Brad Smith at Quarterback, the running game was non existent on a snowy, rainy day at Gillette. Not exactly what you want to see from your ground game in wintery conditions.
Wide Receivers – C-
Jerricho Cotchery – 6 receptions, 53 yards
Justin McCareins – 5 receptions, 40 yards
Laveranues Coles came in for the first play and after that left due to his nagging high left ankle sprain. Cotchery, despite being laid out by Asante Samuel on one occasion, caught six balls. McCareins, filling in for Coles, missed a huge opportunity to pull the game to within three points when he juggled a ball in the end zone that was initially ruled a touchdown before a Patriot challenge and was overturned. Mike Nugent then missed a 35 yard field goal and the game was over.
Tight End – B
Chris Baker – 8 receptions, 66 yards
Baker had his most receptions in a game this season as he was Pennington's go to guy for the entire game. However, a huge fumble by Baker inside the Patriot 20 hurt the Jets and he was part of pass protection problems as well.
Offensive Line – F
Five sacks allowed and minus Washington's 49 yard run, this unit paved the way for a whopping 27 yards from their two running backs. Pathetic.
Defensive Line – D
Laurence Maroney pounded the defense for 106 yards on 24 carries and the pressure on Brady was inconsistent to say the least. Shaun Ellis, as he usually does against New England, came up with a sack.
Linebackers – B
The unit brought down Maroney quickly each time as his longest run against the defense was for just 11 yards. David Harris continues to show that he is the future of this defense with another strong performance (7 tackles). Also, where was Bryan Thomas? David Bowens started in place of the struggling outside linebacker.
Secondary – A
Okay, minus one play in which Kerry Rhodes lined up against Randy Moss, the secondary played a great game. Darrelle Revis has now shut down both Terrell Owens and Randy Moss, neither going over 70 yards against the young, confident rookie. David Barrett led the team with 8 tackles, 7 solo.
Special Teams – B
Nugent missed a huge field goal late from 35 yards out and Ben Graham had a punt blocked that set up the Patriots' only offensive touchdown. However, the unit also blocked a Patriot punt and returned it for a touchdown (both done by David Bowens) and Washington had a big 49 yard return in the second half.
Coaching – D
The defensive game plan was brilliant, but on offense, I still do not understand Eric Mangini. It's snowing and freezing rain, now is the time to use Thomas Jones. 4th and 2 from the 17, why is Brad Smith throwing the football? Kick the field goal and take the points. Back to Brad Smith, WHY WAS HE EVEN IN THERE? A couple of option plays, that's cute, but we don't need to see three series of it. Enough already.