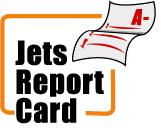 Jets-6, Titans-10
by Joe Grinwis
Quaterback – C
Chad Pennington – 26-32, 264 yards, TD, 2 INT
Another average day from an average Quarterback. Pennington made a couple of nice throws but also had a couple of horrible one's (one of his interceptions led to Tennessee's only touchdown and the other came in the Tennessee red zone). Chad is on his way out in New York, as the Jets are clearly no longer built for him to have any success.
Running Back – D
Thomas Jones – 21 carries, 58 yards
Congrats to Jones, who became the 5th Jets back in the franchise's history to eclipse 1,000 yards rushing in a season. However, no big runs from Jones throughout the entire game, once again.
Wide Receivers – B-
Jerricho Cotchery – 8 receptions, 152 yards, TD
Brad Smith – 5 receptions, 45 yards
Smith had his usual case of the dropsies but also hauled in five passes while replacing Laveranues Coles in the starting lineup. Cotchery had a heck of a game as the number one wideout, easily his best game of the season. Congrats to him as well in reaching 1,000 plus yards on the season.
Tight Ends – C
Chris Baker – 4 receptions, 40 yards
Not much here, as usual. Baker had one rare drop but also hauled in four passes. Back-up Joe Kowalewski was taken to school by Kyle Vanden Bosch on one particular play as well.
Offensive Line – F
Horrible pass protection, especially in the second half and horrible run blocking. Not much more to say about the line. 
Defensive Line – D
Sione Pouha led the team in tackles with eight (all solo) and should get some more time next season at Nose Tackle as the future of Dewayne Robertson is uncertain. This unit very much needs to find someone who can rush the passer.
Linebackers – B
David Harris, Victor Hobson and David Bowens all had a sack a piece with Harris' resulting in a turnover (it was a strip sack of Vince Young). The unit also faired well in bringing down LenDale White and Chris Brown quickly.
Secondary – A
You know its a good day for the unit when David Barrett has an interception, but some other notes: Abram Elam was a steal of a free agent signing a week into this season and should remain the starting strong safety heading into 2008. Kerry Rhodes, when given the opportunity to blitz, always wreaks havoc and Darrelle Revis is as close to a shutdown corner as you can get in today's NFL.
Special Teams – D
Mike Nugent had an extra point blocked, which was in large part due to D'Brickashaw Ferguson missing his blocking assignment, and also missed a 51 yard kick badly. Jeremy Kapinos over kicked, but may have taken the place of Ben Graham as held the ball well for Nugent, something that might've kept Graham in a Jets uniform as long as it did.
Coaching – C-
The defensive game plan was excellent. However, as it is most weeks, the offensive game plan was putrid. Enough with the 1st and 10 handoffs to Jones up the gut and screen passes. Enough. This is almost as bad as the 1st and goal fade routes. Brian Schottenheimer needs to change up his offensive philosophy big time in the off-season or he needs to be shown the door.
Stud of the Game: Cotchery
Dud of the Game: Nugent