Position Group Preview: Running Backs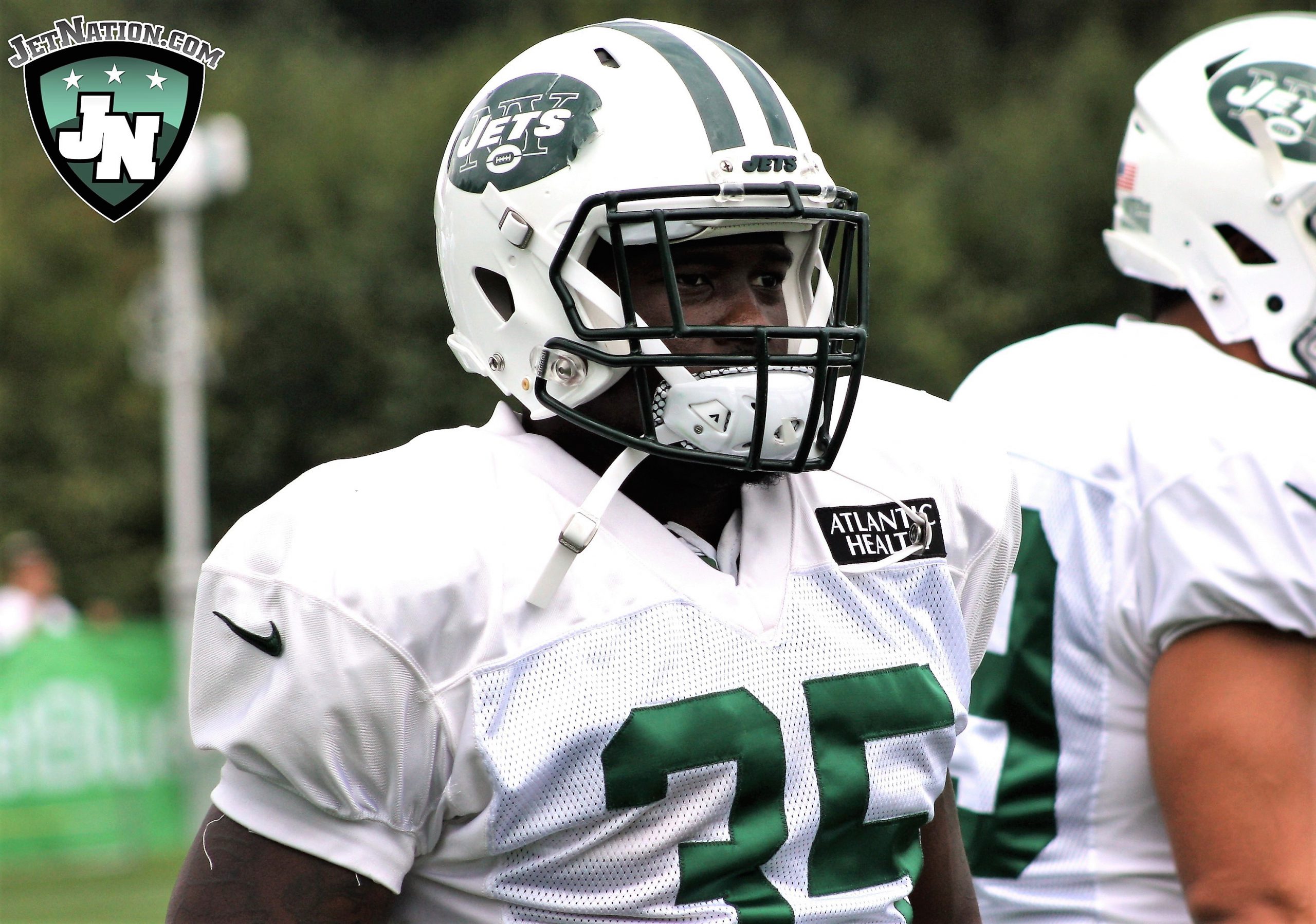 Training camp is now just around the corner, Jets fans.  So with that in mind, JetNation.com will be taking a close look at each position group on both sides of the ball to see where the team stands as Todd Bowles readies his team for a season-opening Monday Night Football tilt on the road against the Detroit Lions on September 10th.
If the Jets want to be successful this season, and support a young quarterback in Sam Darnold, one thing that must happen is the running game has to be established. With the off-season retirement of Matt Forte, the running back position for the Jets has a new look. The group of running backs with Coach Stump Mitchell includes: Bilal Powell, Isaiah Crowell, Eli McGuire, Trenton Cannon, and Thomas Rawls. On the surface it appears this position for the Jets is far below average, but the young talent in this group could surprise.
Bilal Powell:
This 2018 season should look much different for Bilal Powell since joining the Gang Green in 2011. Where Powell was largely looked upon as relief for Matt Forte, much depends on if whether or not Powell can produce another season like his 2016 campaign. In 2016, Powell averaged 5.5 yards per carry, and 3 touchdowns. In 2017, Powell saw that number dip to 4.3 yards per carry with 5 touchdowns as the Jets offensive line struggled mightily.  Coaches have hesitated to approach Powell featured back in the past, but with Forte gone, he could see an increased workload in 2018.
Isaiah Crowell:
Earlier this off-season we discussed Crowell and his transition from Cleveland to New York. Crowell is a well-rounded player who has spent his career in the albatross that is Cleveland. With the Browns, Crowell averaged 4.8 yards per carry in 2016, and his power between the tackles is largely underrated. Playing with the Browns limited Crowell in the past, as poor quarterback play and lack of offensive weapons allowed defenses to key in on him. This season with the Jets, the hope is that an improved quarterback room and better targets at wide receiver, Crowell could have some extra room to work with, leading to more big plays.
Eli McGuire:
McGuire has not been the most impressive back since being drafted in the sixth round in 2017, but his performance against the Jaguars last season has given fans a reason for optimism.  Against the runner-up of the AFC, McGuire rushed for 93 yards on 10 attempts, with 38 yards in receiving and a touchdown. Earlier this off-season, running backs coach Stump Mitchell compared McGuire to hall of fame running back Ladanian Tomlinson. If the Jets are in fact this high on McGuire, don't be surprised if he sees an uptick in carries and production in 2018.
Trenton Cannon:
Cannon is sure to see a rise in competition this season after being a standout running back at little-known Virginia State. Cannon rushed for 1,100 yards in his first 3 seasons, and an impressive 1638 yards in his senior season. Cannon showed teriffic speed, and the ability to tap into a new gear in the open field. If Cannon impresses coaches early, he could find himself as a kick returner where he shined in college, or a punt returner if he can get the hang of it quickly.  Reports out of mini camp suggested that Cannon was in face making noticeable improvements as a punt returner.
Thomas Rawls:
Last but not least, Thomas Rawls shocked the league 3 years ago, averaging 5.6 yards per carry, and rushing for 830 yards total with the Seahawks. Rawls was extremely impressive when he found himself on the field, but he had a hard time staying on it. Rawls has missed 14 games in the last 3 seasons, and with younger competition around him, he could be a long shot to make the roster. Despite the promise he showed in Seattle, Rawls must stay healthy in camp, and disply the skill he possessed in the past in order to knock off one of the younger Jet backs off the roster.  It's highly unlikely, but if Rawls looks anything like he did three seasons ago, letting him walk would be a tough call.
In the end, this group has several well-rounded backs and there's plenty of promise as McGuire is entering just his second pro season, and Powell hasn't taken nearly as much of a beating as you might expect from a 29 year-old back. If the Offensive Line can step up, this group of backs could go a long way in helping the Jets establish a versatile and explosive offensive attack.
Want to check out some of our other position previews?  Check out the links below
Quarterbacks, Defensive line, Tight Ends.
Hang in there, Jets fans.  Football season is almost here.
Videos
New York Jets OTA Presser Takeaways, Aaron Rodgers' Impact and Summer Delusion