Home Slider NY Jets Training Camp
Five Critical Training Camp Storylines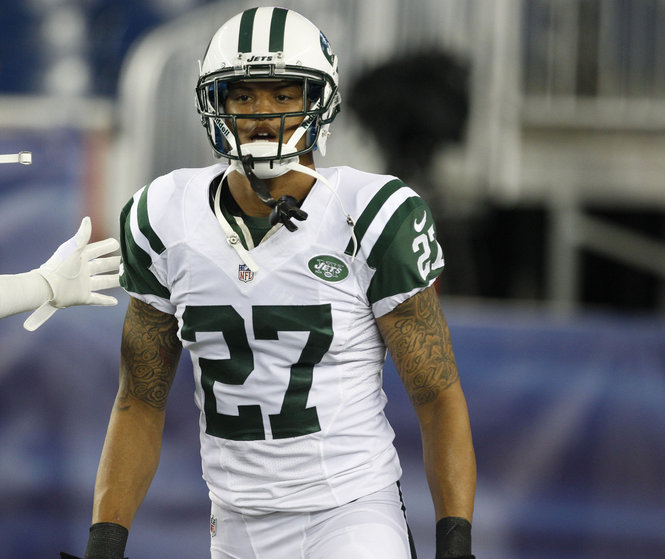 By Glenn Naughton
Training camp is here and there won't be any shortage of key battles for playing time or newcomers to keep an eye on as the regular season approaches.JetNation.com takes a look at some of the top concerns and players to watch as rookie head coach Todd Bowles readies his team for the 2015 season.
1) The Quarterback Battle:
It's become a recurring training camp theme for the Jets over the course of the past several seasons and it will continue to be so until the Jets find the answer under center.
This time around it's the incumbent Geno Smith as he prepares to enter his third season, pitted against veteran Ryan Fitzpatrick.
There are reasons to either believe in or doubt Smith, but given his age and relative inexperience, the Jets appear to be handling the situation perfectly up to now.
Head coach Todd Bowles said publicly that Smith is his starter and he'll probably get the nod if he and Fitzpatrick were to yield similar pre-season results. However, Bowles also made it clear that Fitzpatrick could take the job should he outplay the youngster.
With a week-five bye, playing Smith for the season's first four games to see if the "light comes on" is a good idea.  If he's still struggling at that point, the Jets can turn to the more consistent Fitzpatrick who should benefit from playing on what should be the best defense he's ever been a part of.
2) The Changing of the Guards:
If order for Smith to succeed, the Jets offensive line is going to have to keep him upright.  The unit was better than they were given credit for last season as PFF.com numbers show that Smith trailed only Russell Wilson of the Seahawks in average time from snap to throw in the NFL.  However, a new offense and at least one new starter means possible growing pains.
The Jets brought in Seahawks free agent guard James Carpenter who is slated to take over on the left side where Brian Winters started last season before being replaced by Oday Aboushi following a season-ending injury in week six.  That leaves right guard as the lone unsettled spot on the O-line.
Despite a glut of offensive linemen on the roster, Mike Maccagnan re-signed veteran Willie Colon who will compete with the likes of Aboushi and Winters along with the lesser known Brent Qvale and one of last season's fourth-round draft picks, Dakota Dozier.
One of this season's draft selections, Jarvis Harrison may earn some consideration as well, but where the Jets plan on using the youngster remains to be seen as some pro scouts say Harrison would project well at left tackle. At some point the Jets are going to have to start looking for Pro-Bowler D'Brickashaw Ferguson's eventual replacement.
3) The Cornerback(up)s:
While the cornerback position has gone from one of the team's biggest weaknesses to one of the top units in the NFL, (on paper anyway) the bottom of the cornerback depth chart will have a lasting impact on the organization.
Darrelle Revis and Antonio Cromartie will man on the boundaries while Buster Skrine is expected to cover the slot that was occupied by former first-round bust Kyle Wilson.
Beyond that, the Jets have a former first-round pick in Dee Milliner who struggled as a rookie but came on late two seasons ago and then appeared to carry that over in to last season when he played  his only healthy game of the season in San Diego against the Chargers.
Milliner was arguably the Jets' best defender that day but suffered a season-ending injury the following week at home against the Broncos.  If Milliner is able to stay healthy and play at a high level, Cromartie and his $8 million salary become expendable next season.
Behind Milliner is another pick from last year in Dexter McDougle who reportedly impressed early on in camp before being put on the shelf for the season along with Milliner.  If Milliner and McDougle pan out, the cornerback position should be among the best in the NFL for years to come.
After climbing to the top of the depth chart last season, Darrin Walls and Marcus Williams may not see much of the field at all in 2015, but both played well at times in 2014.
Williams was especially impressive after being picked up as an undrafted free agent who was let go by the Houston Texans and stepping in to start for the Jets mid-way through the season.
If Williams is able to prove last season wasn't a fluke, he could give the Jets three solid cornerbacks with less than three years of NFL experience.  With Darrelle Revis entrenched for the next several seasons, moving one of the aforementioned corners for a draft pick or two may not be out of the question.
4) Richardson's Suspension Complicates Matters:
Given the leagues recent announcement that star defensive end Sheldon Richardson will be suspended for the first four weeks of the season for violating the NFL substance abuse policy, the Jets defensive line takes a big hit early on.
Gang Green is fortunate in that their current crop of linemen should be able to compensate for the short-term, but it also raises long-term questions up front.
Local product and fellow-lineman Muhammad Wilkerson is in the midst of a contract dispute in which he  had little leverage prior to the news on Richardson.
As a stellar performer who has always been the "good soldier", the Jets will now have to decide if it would be wise to lose Wilkerson in the future while rolling the dice on Richardson who would be facing an eight-game suspension should he test positive again.
The silver lining here is that the Jets first round selection, defensive end Leonard Williams should see increased reps early on in Richardson's absence.
5) Will Quinton Coples live up to first round billing:
Quite possibly the most physically gifted player on the Jets roster, Coples was chosen with the sixteenth overall selection in the 2012 draft.  While he has been an effective player at times, Coples has yet to break out at the pro level, but he's also had to operate under less than ideal circumstances.
After playing sparingly as a rookie, Coples showed flashes of being a force on defense on the interior defensive line.  His combination of size and quickness allowed him to beat some of the slower guards he would face, finishing the season with 5.5 sacks despite playing less than 50% of the team's snaps.
In season two, Coples was moved to outside linebacker by former head coach Rex Ryan in a move that many criticized as one skill Coples did lack was covering opposing running backs and tight ends in Ryan's blitz-heavy scheme.  A fractured ankle during training camp didn't help matter either, as Coples would be making the transition while injured.
Given the Jets struggles on defense last season, it's hard to hold any one player accountable as the unit was asked to consistently cover for shortcomings in the secondary.  At times, Coples split out from his outside linebacker spot to bump opposing receivers from the cornerback position and was asked to step in to play defensive end for a few contests late in the season when Mo Wilkerson was out with a toe injury.
As Coples prepares to start his fourth NFL season, fans hope that the arrival of Todd Bowles will mean more stability for a player who has the physical ability to dominate opposing offenses, but constantly changing roles has stunted his development.
Another apparent concern regarding Coples is his work ethic.  Critics of the 6′ 6", 284 lb defender have questioned his effort from time to time, something that if true, isn't expected to be tolerated by the Jets new regime.
As former New York Jets linebacker and current SNY analyst Chad Cascadden said in a recent interview with JetNation.com, "If Quinton Coples can't make it in this defense, I'm not sure he can make it anywhere".
In just a few weeks, Jets fans will be able to follow these story lines and more as the Jets start pre-season camp at their facilities in Florham Park, New Jersey.
Videos
NY Jets OTA Recap; Robert Saleh Cancels Minicamp