Who the Heck is That guy? Jets Complete Pre-Camp Roster Run-Down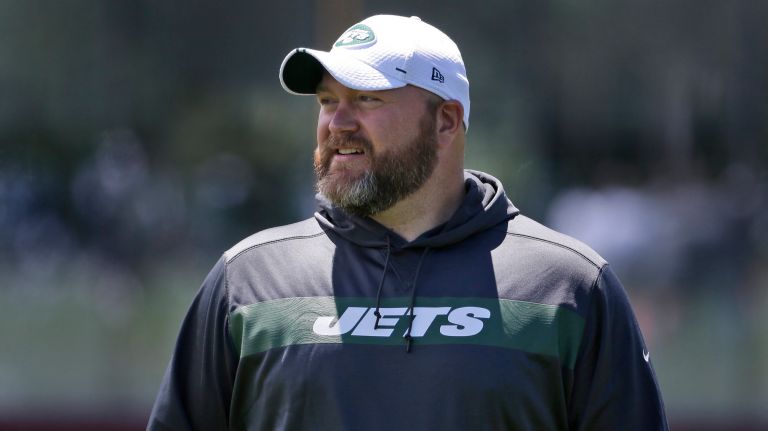 It's been a very active off-season for Joe Douglas, Robert Saleh and the New York Jets with plenty of names coming and going via free agency and the draft.
With that being the case and the start of NFL training camps being just around the corner, we thought we'd take the (considerable) time to walk you through every single player currently listed on the Jets official roster.  Some names you'll know like the back of your hand, others will sound familiar, and a few might even have you asking "who the heck is that guy".
Well, we're here to tell you who the heck that guy is.
36 Josh Adams, RB: By drafting Michael Carter and signing Tevin Coleman, the running back room improved enough to put Adams' roster spot in jeopardy.  He played will in limited action last season, averaging 5.4 ypc and is the closest thing the Jets have to a "thumper" in the backfield at 225 lbs but his chances of making the roster are slim.
31 Bless Austin, CB: Austin may not have a very long leash this season despite the Jets being paper thin at cornerback.  The corner didn't pass the eyeball test on film and that was confirmed when PFF ranked him 88th among all NFL corners in 2020.  Barring a dramatic improvement, Austin, who wasn't drafted by this regime could be on his way out or at the very least headed down the depth chart.
3 Manasseh Bailey, WR: A small school prospect with speed to burn, Bailey and several other receivers will be in the same predicament faced by Josh Adams.  The Jets added three receivers this year who are as good as or better than anyone they had in uniform last season in Corey Davis, Elijah Moore and Keelan Cole.  With Jamison Crowder and Braxton Berrios likely sticking (more on that later), there are only so many spots left to fill.
27 Corey Ballentine, CB: Ballentine hasn't put much on film as an NFL cornerback but what he has put out there as a member of the Giants isn't very inspiring.  Primarily a kick returner, Ballentine may stick if he shows growth under a new staff.
77 Mekhi Becton, LT: It's all about staying healthy for Becton.  The big man missed part or all of 8 games last season and that won't cut it.  If healthy, expect Becton to become one of the elite tackles in the NFL.
10 Braxton Berrios, WR: Berrios saw a dip in production last season as a punt returner but was among the best in the NFL just one season before.  Reports out of minicamp made Berrios out to be rookie QB Zach Wilson's favorite target early on as the two looked to be building a fair bit of chemistry.  That, along with his ability to return punts should help Berrios make the 53 once again.
54 Ronald Blair, DL: A dominant run defender, Blair has also picked up 8.5 sacks in his last 25 games as a part-time player.  His familiarity with Robert Saleh's system could give him a leg up on his competition but this defensive line group may be the deepest unit on the team so it won't be easy for Blair.
87 Daniel Brown, TE: Primarily a special teams player, Brown is one of six tight ends currently on the roster (five if we count Trevon Wesco as a fullback) and may have a tougher path to a roster spot in 2021.
15 Lawrence Cager, WR: Another receiver who will have to move mountains to make the roster, Cager is a guy with a high ceiling who has battled injuries in college and as a rookie last season.  His height (6′ 5") and excellent hands give him some tools to work with, but again…tough group to crack.  Maybe add some weight and get a look at TE?
26 Elijah Campbell, DB: Campbell was added by Joe Douglas back in November of last season and was active for just 1 contest  Campbell played both safety and cornerback in college but is likely to stay at safety as a pro.  His 4.4 speed combined  with his surprisingly physical play could make him a special teams candidate.
32 Michael Carter, RB: If the upgrades made along the Jets offensive line plays to its full potential, Carter and company are going to put up some gaudy numbers on offense.
30 Michael Carter II, CB: One of many corners who should be given every opportunity to show what he can do, the former Duke product who was taken in the fifth round will look to compete with an inexperienced crop of CB's.
53 Blake Cashman, LB: Cashman may have the biggest known range of outcomes from the day training camp gets under way.  If he stays healthy, he could be a starting linebacker for Robert Saleh.  If he gets hurt for a third straight season, he'll likely be let go.  If he manages to stay healthy, Cashman could flourish.
Really can't overstate how big of a year this is for Blake Cashman. Flashed at times in year one but hasn't been healthy enough to hold a starting job. Can be anywhere from day 1 starter to off the roster come September. pic.twitter.com/7Zt4zKzihN

— Glenn Naughton (@AceFan23) June 27, 2021
72 Cameron Clark, OL: The Jets list Clark as a tackle on their official roster but expect to see him compete for a spot on the interior the pre-season.  Clark plays with the type of nastiness you look for in an old school O-lineman.
88 Keelan Cole, WR: Cole's signing took place before the Jets saw Elijah Moore land in their lap and re-worked Jamison Crowder's contract.  Only so many passes to go around but Cole has been a productive player in a bad situation with the Jaguars.  If deployed as a 4th/5th receiver, the Jets may be able to create some mismatches with Cole.
19 Matt Cole, WR: A former 49er, the speedy Cole will audition as a special teamer and bottom of the depth chart receiver.
23 Tevin Coleman, RB: Coleman is another addition from the 49ers where he averaged 4.0 yards per carry two seasons ago before getting injured in 2020.  Expect him to be part of a backfield that regularly uses three different runners as he joins Michael Carter and Ty Johnson behind a brand new O-line.
82 Jamison Crowder, WR: The Jets best receiver over the past two seasons, Crowder is likely to see fewer targets and slide down the depth chart.  A good player who the Jets may be able to dangle as trade bait to a contender at some point.
99 Vinny Curry, DE: A seasoned vet who the Jets may turn to to mentor some of their young O-linemen.  Curry hasn't done much as a pass rusher since he had 9 sacks in 2014 but would likely be a part-time player if he manages to make the Jets roster.
Two good plays here by Vinny Curry. Week 16 vs Dallas. First play is a run disruption with a nice inside move. Second is an impressive sack on Dalton, where he overpowers the LT and RB. pic.twitter.com/pyuckfRLnw

— Dylan Tereman (@DTereman) July 3, 2021
21 Ashtyn Davis, S: Entering  his second season, Davis is another rookie who missed time last season and will look to establish himself in 2021.  A super athletic player who will probably move around quite a bit on defense this season.
84 Corey Davis, WR: A big off-season addition, Davis is a big target who should pair nicely with Denzel Mims on the outside to give Zach Wilson a a pair of receivers who can really go up and get it.  In Davis, the Jets snag the rare young ascending talent in free agency.
Have to love the way Corey Davis gains separation being so quick out of his breaks for a guy his size. This one against Baltimore CB Marcus Peters. Davis Draws Peters inside before quick break toward the sideline with tons of daylight between DB and receiver. pic.twitter.com/xqeQc2pgnt

— Glenn Naughton (@AceFan23) March 16, 2021
52 Jarrad Davis, LB: A former first-round pick of the Detroit Lions, Davis played some quality football over his first two seasons before finding his way to the bench under Matt Patricia.  He'll move from inside to outside under Robert Saleh where the Jets hope he'll hit that first round potential.  An underrated blitzer, don't be surprised if Davis is a force in getting after the QB this season.
56 Noah Dawkins, LB: Keep an eye on this player.  One of the lesser known names on the roster, Dawkins played at Citadel so there's limited opportunity to watch him in action but from what we were able to find, he was a heady player who was always around the ball and showed the ability to get from sideline to sideline in a hurry to make plays.  Dawkins could surprise and find his way on to the 53 as a special teamer with a shot to get worked in on defense.
36 Isaiah Dunn, CB: We liked Dunn's chances to  make the 53-man roster when he was signed as an undrafted free agent as the Jets are incredibly thin at the position.  Following a strong showing in rookie and mini-camp we only feel better about his chances.  A player who you could argue should have been drafted, Dunn has as good a shot as any UDFA to be a starter as you'll find.
Oregon State CB Isaiah Dunn is a guy the Jets coveted as a priority free agent. Gave him $200K deal which is a decent chunk for UDFA. Has a shot to make the 53 given the lack of depth the Jets have at the position. pic.twitter.com/wLk2boMymt

— Glenn Naughton (@AceFan23) May 14, 2021
50 Michael Dwumfour, DL: Another UDFA we really like, Dwumfour shows violent hands and an excellent first step but is likely heading to the practice squad.  This Jets D-line just has too many bodies for an UDFA to make it unless he blows up everything in his path from the time camp kicks off to week 1.
25 Brandin Echols, CB: A freakishly athletic cornerback who will get a look on the outside along with several other youngsters.  Echols ran a 4.36 40, had a 42.5" vertical leap and a 4.12 second 20-yard shuttle at his pro day.
70 Chuma Edoga, OT: A make or break year for Edoga who has been up and (mostly) down since being taken out of USC a couple of seasons ago.  With more depth on the O-line than at any other time since his arrival, Edoga won't be able to fall back on the "potential" label anymore and the results will have to be there or he won't.
46 Camilo Eifler, LB: A monster hitter out of Illinois, Eifler is the type of tone-setting defender or special teamer that coaches and fans love to watch.  There were some clear holes in his game in college which is why he wasn't selected, but if the Jets coaching staff can get him to play under control a bit better, he might have a home with the Jets.
76 George Fant, OT: Fant lost his starting role to free agent addition Morgan Moses just a few weeks back so now looks to be a backup/swing tackle for the Jets.  Our suggestion?  Get the big man some snaps at tight end.
No target for @GeorgeFant74 but that's on Russ Wilson because you can see how wide open he is early in the route. If you say you're not looking forward to Fant reporting in as eligible you're lying. pic.twitter.com/d5jupIGWYJ

— Glenn Naughton (@AceFan23) May 8, 2020
94 Folorunso Fatukasi, DT: One of the more underrated defenders in the league, Fatukasi is a force against the run and gets more push against the pass than he gets credit for.  Another piece on a stacked D-line but could he become trade bait in a very overcrowded D-Line room?
67 Dan Feeney, OL: Feeney has experience at both center and guard which could mean he's headed for a utility man role, but his salary being higher than that of Greg Van Roten lends credibility to the suggestion that he was signed to come in and win the job at right guard.
9 Sam Ficken, K: Ficken has connected on just 72% of his kicks as a pro.  The position has been somewhat of a blind spot for Joe Douglas thus far.
91 John Franklin-Myers, DL: A true find on the defensive line last season, Franklin-Myers went from injured and unknown with a season on IR as a Jet before racking up 27 QB pressures and 3 sacks as a part-time player in 2020.  Expect a huge role for Franklin-Myers in 2021.
If last Sunday is any indication as to what the Jets can expect from John Franklin-Myers, they may have something on the inside with him and Quinnen Williams. Looked very good on all 22. pic.twitter.com/OhqGCvBRiu

— Glenn Naughton (@AceFan23) September 23, 2020
86 Ryan Griffin, TE: Griffin did a solid job for the Jets as a pass catcher in 2019 (34/320/5)but disappeared last season, catching just 9 balls for 86 yards.  Which version shows up to camp this season?  Only a few weeks until we find out.
40 Javelin Guidry, CB: An undrafted free agent who got some run late last season and made a handful of plays, forcing 3 fumbles down the stretch, Guidry will be competing for the slot job where he'll be the incumbent but also the underdog.
37 Bryce Hall, CB: Expect Hall to win one of the two starting cornerback spots after showing some good things on film as a rookie despite missing a large chunk of the season as he bounced back from a leg injury in college.
34 Justin Hardee, CB: Exclusively as special teams player, Hardee is one of the NFL's top tacklers on coverage teams.  He'll be locked in as a gunner for Gang Green.
49 JT Hassell, S: A Florida Tech product, Hassell has appeared in just 7 games over two pro seasons with all of his work coming on special teams for the Jets in 2020.
42 Thomas Hennessy, LS: Most Jets fans couldn't tell you who the team's long snapper is if you offered them a million dollars.  That's a good thing.
78 Grant Hermanns, OT: It'll take a miracle to get Heramanns to the point where he can make a roster in 2021.  The Purdue product has a long way to go in terms of balance and consistency before picking up a roster spot, but he has excellent length for the position.
89 Chris Herndon, TE: Plenty of fans have given up on Herndon after he followed an injury riddled 2019 with a horrific first half of 2020.  He bounced back and played well in the second half, catching all 17 of his targets of the season.  If the opportunities are there, Herndon will bounce back.
64 Tristan Hoge, OL: Former teammate of rookie QB Zach Wilson, Hoge has played both guard and center at the collegiate level.  He plays with a nasty attitude but lacks athleticism which he makes up for with very clean technique.
47 Bryce Huff, DL: Huff is a player who stands to gain quite a bit by shifting to a 4-3 base defense.  The more he can line up at defensive end and get after the quarterback, the better chance has to make plays.
39 Bennett Jackson, S: Jackson has exclusively played special teams since joining the Jets in 2019 and has played just a handful of plays on defense for the Ravens before coming to the Jets.
38 Lamar Jackson, CB: Jackson was thrown in to the fire last season after going undrafted out of Nebraska.  He'll get some run at corner again this season but could a swap to safety be a better idea?  Jackson doesn't look to have the requisite speed to consistently cover receivers on the boundary.
25 Ty Johnson, RB: Johnson stands to be a huge beneficiary of a competent coaching staff with a scheme that is tailor-made for his skill set.  A forgotten man last season, Johnson could be a guy every Jets fan is talking about.
29 Lamarcus Joyner, S: While Joyner figures to be one of the Jets two starting safeties in 2020, the "starter" label could very well be a moot point if Gang Green deploys as many 3-safety sets as several people are anticipating.  Either way, Joyner checks in at just 5′ 8" but has played at a high level in the past when deployed as a safety versus nickel back.
81 Tyler Kroft, TE: Kroft should pair very nicely with Chris Herndon in this offense with the two being able to flip roles as TE1 and TE2 with both players being more than capable of blocking or being a receiver.  Kroft hasn't been asked to do much pass catching as a pro, but when he has, he has definitely looked the part.
Don't sleep on Tyler Kroft, folks. Could make a nice 1-2 punch with Herndon. pic.twitter.com/VxfayHG4Kg

— Glenn Naughton (@AceFan23) June 19, 2021
58 Carl Lawson, DE: There are times on film when Carl Lawson looks absolutely unblockable but that hasn't translated in to QB sacks.  So while his 64 pressures may not be all that "sexy", Lawson is having a huge impact on opposing quarterbacks and will look to seal the deal a bit more in 2021 with a stacked D-line and a shot to put up double-digit sacks for the first time in his career.
65 Corey Levin, OL: Levin was brought in to compete for a backup OL spot after previously playing for the Tennessee Titans.
71 Alex Lewis, OL: Clearly a favorite of Joe Douglas, Lewis was retained after being sent home to cool off for a couple of weeks late last year.  With experience as a pro at both tackle and guard, Lewis has a good shot to hang around again and in all honesty, a team could do much worse in terms of a depth player.
33 Zane Lewis, CB: The Air Force Academy product hasn't seen the field as a pro.  As is the case with any young player trying to break in to the league at cornerback, Lewis is in the best place to make that happen.  Even still, the best likely outcome for Lewis would be a shot on the practice squad.
83 Josh Malone, WR: Malone has a nice combo of size and speed but barring multiple injuries, can't see him making this roster.
7 Braden Mann, P: Mann is locked in at punter for the Jets this season as they hope to utilize his services far less in 2021.
96 Jonathan Marshall, DL: Marshall may have been the Jets final draft choice but his film makes him a very exciting prospect to watch as he matures.  Marshall lived in opposing backfields with unmatched athleticism on the interior that the Jets hope will translate in to plays at the pro level.
Not every impact play makes it in the box score or highlight reel. Jonathan Marshall penetrates, pressures, misses the sack but forces the incomplete pass vs Auburn. pic.twitter.com/zYZJswamXY

— Glenn Naughton (@AceFan23) May 3, 2021
26 Marcus Maye, S: Maye will play the 2021 season on the franchise tag after failing to come to a long-term agreement with the Jets.  Unless Maye has a huge season in the Jets new system, expect them to trade him at some point between now and the deadline.  If they're unable to do so, Maye likely walks as a free agent.
69 Conor McDermott, OL: A depth piece at tackle who was re-signed by Joe Douglas, McDermott could ultimately be the player to take the last tackle spot on the roster.
60 Connor McGovern, C: McGovern had a down year in 2020 but that could legitimately be said for every guy on the roster.  One of the better centers in the NFL in 2019, McGovern will look to regain that form this season.
11 Denzel Mims, WR: Mims missed much of his rookie season due to injury but looked very good once he was finally on the field over the course of his first few games.  From that point on he was an afterthought in Adam Gase's offense and a non-factor down the stretch.  Check out every catch of Mims' rookie season right here.
14 DJ Montgomery, WR: A long-shot receiver with blistering speed, Montgomery spent some time with the Browns before coming over to the Jets where he'll join a long line of receivers fighting for one or two (if that many) roster spots.
8 Elijah Moore, WR: You'd be hard-pressed to find a receiver who has had Jets fans this excited since the days of Keyshawn Johnson going first overall.  Moore is a guy you watch on film and can't find anything in his game that would lead you to believe he won't be a force at the next level.
The first time Elijah Moore makes a play that even slightly resembles this…Jets fans are going to lose their minds. pic.twitter.com/DulqnMTnyi

— Glenn Naughton (@AceFan23) May 13, 2021
4 James Morgan, QB: A questionable Joe Douglas pick during last year's draft, Morgan is a big armed gunslinger who may not be a great fit for the team's new offense.  His status as a recent pick probably locks him in to a roster spot.
— Morgan Moses, RT: Moses hasn't officially been given a number but we'd be shocked if he doesn't get his usual 76.  Players of this stature rarely shake free late in free agency but when he did, the Jets pounced and landed themselves an excellent compliment to Mekhi Becton on the other side of the line.
57 CJ Mosley, MLB: After what essentially amounted to two years off due to injury and a covid opt-out, All-Pro linebacker CJ Mosley is ready to return to the football field.  It's not that complicated, really.  If Mosley returns to form, the Jets have one of the best front seven's in the NFL.  If not, the fans won't let Mosley hear the end of it.  We're betting it'll be much closer to the former than the latter.
61 Jimmy Murray, OL: Another interior lineman with a street fighter mentality whose athleticism may not be up to NFL standards.  We liked Murray's chances to make the roster last season.  With this year's additions?  It's hard to envision it happening.
1 Chris Naggar, K: Naggar hit on 17 of 21 field goals last season and also handled punting duties, twice topping out with a long of 58 yards and dropping 8 punts inside the 20.
45 Hamsah Nasirildeen, LB: A college safety at Florida state, Nasirildeen will look to move to linebacker for the Jets after falling to the 6th round (186 overall) due to missing 2020 with an injury.  As was the case with Bryce Hall last season, the Jets hope they snagged a projected early-round starter in the later rounds due to injury.
Hamsah Nasirildeen with the INT against some QB from Clemson. Good job staying in bounds here. pic.twitter.com/Wf0SvVASeE

— Glenn Naughton (@AceFan23) May 1, 2021
35 Sharrod Neasman, S: A special team's player who has had some run at safety added due to his familiarity with former Falcons and current Jets defensive coordinator Jeff Ulbrich.
22 LaMical Perine, RB: Similar to James Morgan, Perine is a second-year player whose skill set may be a tough fit with the Jets new system.  Time will tell.
43 Del'Shawn Phillips, LB: A linebacker who spent time with the Atlanta Falcons and Buffalo Bills, Phillips was signed by the Jets back in March of this year.  A JUCO transfer who played his final two collegiate seasons for Illinois, Phillips impressed by logging 180 tackles, 10 tackles for loss and four interceptions.  Now he's back under Jeff Ulbrich who he'll be familiar with from their time together in Atlanta.
93 Kyle Phillips, DL: After missing much of last season due to injury, Phillips looks to return to form as an above average rotational player up front.  Phillips has picked up 10 tackles for loss as a part time player in 22 games.
41 Jason Pinnock, CB: Pinnock was a 5th round draft choice out of Pittsburgh and could very well end up lining up as a starter in week 1 for Robert Saleh.
98 Sheldon Rankins, DL: Another big free agent addition, the former first round pick got himself 7 sacks the last time he played a full healthy season.  If he can come close to that number in 2021 with a stacked Jets D-line, things could be rough for opposing quarterbacks.
55 Hamilcar Rashed, DL: Rashed is an undrafted free agent out of Oregon State who has the tools to be a solid contributor against both the run and the pass.
66 Teton Saltes, OL: Saltes played offensive tackle for New Mexico before signing with the Jets as an undrafted free agent but we're expecting a move to the interior.  On film Saltes looks to move far better than you'd expect for a man of his size and could be a very nice developmental player.
More from UDFA Teton Saltes vs Notre Dame. Gets to second level to seal off LBer and help create path to end zone on long TD run. pic.twitter.com/MWcTWVpld0

— Glenn Naughton (@AceFan23) May 5, 2021
97 Nathan Shepherd, DL: Shepherd has turned in to a quality depth piece along the defensive line but with such a crowded group, he'll have to impress the new staff right out of the gate.
44 Jamien Sherwood, LB: Another college safety being moved to linebacker for the Jets, Sherwood picked up 75 tackles (3 for loss) in his final season at Auburn.
79 Tanzel Smart, DL: Smart had a handful of reps for the Jets last season but has about a one in a million shot of sticking around again this season.
16 Jeff Smith, WR: One of the more interesting players on the roster, Smith took strides in his development as a receiver last season after moving to the position at Boston College where he was originally recruited as a quarterback.  Smith has elite speed and could be a real weapon if he takes the next step in his growth.
Jets had some opportunities to hit on some big plays with Jeff Smith last year but QB's were just off the mark. pic.twitter.com/8C79sjJ8kc

— Glenn Naughton (@AceFan23) June 13, 2021
17 Vyncint Smith, WR: We expect one but not both Smith's to make the roster this season and neither one is a bad guy to have around.  Smith is another burner as both he and the aforementioned Jeff Smith run identical 4.36 40's.  Smith finished the 2019 season on the upswing but was injured for the 2020 season.
62 Greg Van Roten, RG: Van Roten had a rough start to his 2020 season but got much better as the year went on and will likely win the right guard job again.  If not, he's a fantastic depth piece.
75 Alijah Vera-Tucker, LG: Vera-Tucker is a day 1 starter with high expectations as many view him as the best rookie lineman in this class.  If he plays to his potential next to Mekhi Becton, this offense will be far better than many expect.
35 Austin Walter, RB: A former 49ers running back, Walter was claimed back in May.  He has never had a pro carry and has returned 5 kicks for 93 yards.
85 Trevon Wesco, TE/FB: Wesco is listed as a tight end but should and will get a shot to show what he can do at fullback.
51 Brendon White, LB: And yet again, the Jets snag a college safety, this time via the UDFA route, and move him to linebacker.  On film White looks like a guy who can make the transition while also being a prime candidate on special teams.
5 Mike White, QB: White has hung around for a couple of seasons now as a Jets backup and has as good a shot to make this roster as any if the Jets opt to carry 3 QB's.  In all honesty, he may be good enough to stick around as the no.2 if James Morgan is his only competition.
2 Zach Wilson, QB: Is Wilson finally the answer to the prayers of Jets fans everywhere?  Only time will tell.
Keep saying it about Zach Wilson…the frequency with which he completes passes to guys who have a defender in their hip pocket is unlike anything I've ever seen.

Wanna' take Dax Milne or Tristen Hoge to give him a familiar face (or faces) in the huddle? Go right ahead. pic.twitter.com/KYGGEH9AKz

— Glenn Naughton (@AceFan23) March 26, 2021
95 Quinnen Williams, DL: When all is said and done, Williams should be the best player on the field for the Jets in 2021.  Expect double-digit sacks IF the big guy can stay healthy.
48 Kenny Yeboah, TE: Another undrafted rookie, Yeboah is out of Mississippi and certainly has a chance to make this roster.  He's athletic enough to win one-on-one battles and is a better blocker than he gets credit for.
92 Jabari Zuinga, DL: Zuniga played very little last season and when he did it was ugly.  Very big steps need to be taken if Zuniga hopes to hang around.
Videos
Aaron Rodgers Injury Fallout & Jets/Bills Recap